Sensous Mattress Specification
Model:Sensous (N.F)
Mattress Height:28 CM
Mattress Style:T.T (N.F)
Pocketed Spring Features :Pockets springs are individual coils which are packed tightly together and held in place by a very high density foam boxed edge which encases the entire spring system. There are many benefits of a pocket spring mattress, the most popular which is the minimizing of partner disturbance. 'Partner Disturbance'
Comfort Layers:Dolce Vita Special Foam is having better cell structure & extremely homogenous properties The open cell breathable structure of the polyurethane foam ensures perfect air circulation & ideal transport of the moisture. Heat buildup is avoided, generating a pleasant climate for sleeping. One top layer of mattresses is firm to give extra support
Visco comfort layer:Special Visco sheet use in Sensous Mattress to give extra comfort to body
Quilting Layers:Special DolceVita Quilting Foam Layers DolceVita Hollow Fiber Sheet Use Quilting design (T& J) for increase the comfort level
Fabric:Special knitted stretched fabric with viscose construction Fabric is made with Viscose yarn which is very cool Border Fabric Special coloured with white and grey
Warranty:10 Years (All terms & Condition apply)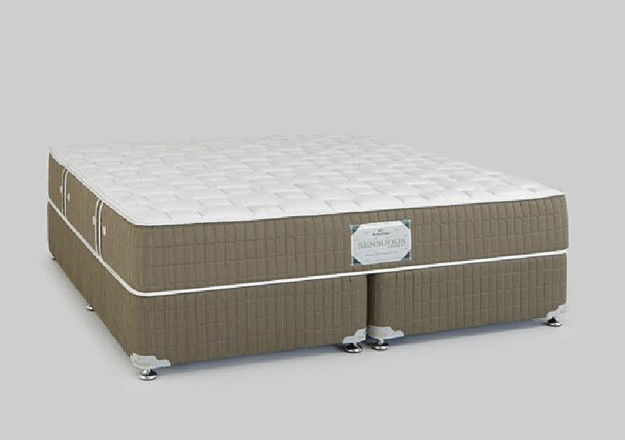 Symbol Mattress propagates its brand through a dedicated band of retail partners who derive success through product quality and an aggressive tariff, all the while never losing focus of the customer segment and their specific needs and expectations. As new and better materials evolve and technologies improve the staff complement at Symbol Mattress Industries LLC. diligently keeps pace to ensure credibility in its product offering and gradually but surely increase its share in market. We have invested time and energy into constantly improving our line of Symbol Sleep Systems. The Symbol budget friendly mattresses are produced in Super series, Premier series & Ortho series.

Symbol Mattress Industries L.L.C. has a huge factory in Al jurf, Ajman which covers an area of 43,000 sq.ft. equipped with advance technology. The most modern, advance and best machinery has been purchased for the production of mattresses. Symbol Mattress Industries LLC. has imported principal specified machinery from Leggett & Platt USA (which is one of the fortune five companies of the world) and various principal specified machine suppliers. Highly trained and professional mattress manufacturing personals are designing each mattress a unique. All the possible measures are taken into consideration to control the quality by giving regular product handling training and explaining specification in detail.
In mid 2008 the company singed an exclusive license agreement with "Englander Sleep Products INC. USA" to become a sole manufacturer/distributor of "ENGLANDER" www.englander.com branded mattresses in the UAE and GCC countries. This brand is ranked in the Top Ten Mattress Brands of the world. This partnership added a significant value in our sales, customer base and technology.It shows in our advanced foam technology, state-of-the-art design, and the value and quality we offer at every price point. But most of all, it shows in the support, durability, and deep, restful sleep that have been Englander's trademark for more than a century. You'll not only sleep better, you'll feel the difference all day long.

The ENGLANDER mattress combines old world craftsmanship with State of the art design to provide the ultimate in sleep comfort. Symbol Mattress Industries LLC. offers a range of comfort systems to meet the expanded need and discriminating taste of today's consumers. Every ENGLANDER mattress delivers its original promise ...

"Better Sleep by Design".

  Under the license of ENGLANDER we produce variety of quality products like natural latex, viscopedic memory foam, bonnel spring & pocket spring mattresses.
bedMATCH is a patented diagnostic system that matches you with the mattress best suited for your body type and sleeping position. Using 18 statistical measurements, over 1,000 scientific calculations and the information you provide about your sleep preferences, bedMATCH identifies the optimal postural support and pressure relief for your body. When your mattress provides optimal postural support based on your body type and sleeping position, your body stays properly aligned and supported during sleep.

Most people choose their mattress based on how they feel after a few minutes trying it out in a store. The fundamental problem with this is that when you're awake, your muscles aren't fully relaxed. And when you sleep, the muscles in your body relax completely, making proper support even more important for spinal alignment and pressure relief. If you're sleeping on the wrong mattress, poor postural support will result in morning aches and pains and can contribute to bigger health issues over time. The right mattress should conform to and support your body. As your spinal column realigns, the muscles in your legs relax and your blood circulates properly. So instead of waking up sore and tired, you wake up stronger and healthier.
At DOLCE VITA we have spent years mastering the art and science of sleep and innovative designed sleep technology experience into every type of mattresses we make. It shows our advanced technology, best designing and the value and quality we offer at every price point.
Dolce Vita, founded in 2000, is one of the dedicated breed of manufacturers devoted to producing quality sleep products. Manufacturing capabilities in UAE have underlined our credentials as a significant presence within the bedding industry "Dolce Vita" www.dolcevitamattress.com is the Italian term for a life of pleasure and luxury. Our sleep systems are designed and created to capture the essence of this simple concept. Whether you curl up for a quick catnap, settle back for a leisurely siesta or turn in for the night, our aim is that you feel the luxury of comfort and absorb the pleasure of perfect rest. Requirements from a sleep system vary greatly from person to person. Dolce Vita addresses these variations by producing sleep systems that fall into three distinct categories. The units that comprise each category have differing features, materials and construction techniques, that seek to offer sleep solutions for a wide variety of requirements. 

  Symbol Mattress Industries LLC. Has brought three distinct ranges of DOLCE VITA designed to meet the need of more sleep requirements. We source raw materials from global leaders and vigorously update our skills, production techniques and machinery. We have Signature, Revital, and Spinal collection as well as seven star, five star & four star collections for hospitality sectors.
You can feel the difference an ideal sleep experience makes when you wake up each morning. It simply provides the rest—and restoration—needed to feel energized and at your best. That's why Kingsdown developed Sleep to Live mattresses, made specifically to work with our revolutionary bedMATCH™ diagnostic system to meet your specific support needs. Each Sleep to Live mattress sleep set is handcrafted to provide scientifically recommended postural support through precise combinations of wrapped innerspring coils and luxury foams, so you can enjoy lasting, healthy sleep.